New ITVX comedy Ruby Speaking, starring Bristolian talent Jayde Adams, is now available on ITVX.
Our Film Office team supported filming for exterior scenes in the new six part series on the colourful streets of Totterdown, South Bristol earlier this year.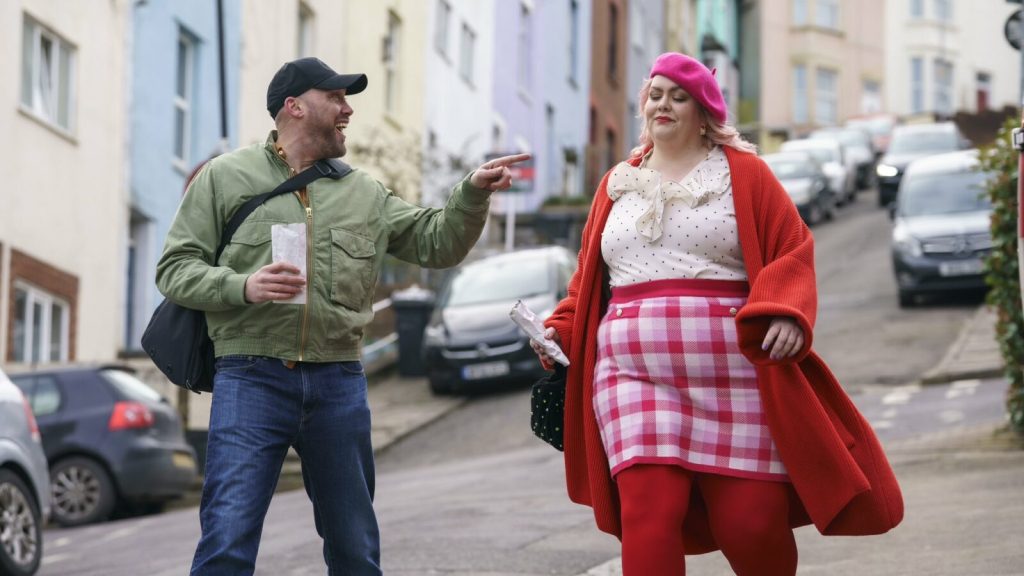 Newly-single Ruby (Jayde Adams) is a fun and irreverent member of the customer service team at the Bristol call centre of Hellocom. The life and soul of her workplace, Ruby struggles to read from the prepared script that work and life have foisted upon her, choosing instead to walk her own chaotic path.
The series follows Ruby and her ragtag bunch of colleagues as they live, love, laugh and enter a choir competition they have no business being in.
Alongside Jayde Adams in the title role, the cast also features Katherine Kelly as Vicki, Sam Swainsbury as Mark, Bristolian actor Joe Sims as Tom, Jamal Franklin as Cameron, Nicky Goldie as Donna, Amy-Leigh Hickman as Ellie, Dan Hiscox as Craig and Kiera Lester as Melons.
It's a love letter to the city – we've seen Bristol portrayed before but not in this way. No suspension bridge, no Clifton…this is all South Bristol, which is where I'm from, it's where I grew up and it shows the vibrancy and the colour, it shows how creative it is as a city. I've lived all over but there is nothing quite like it, we're home of Banksy, we've got an amazing music scene and we've been able to showcase that with the music we've chosen. Where we can we've worked with Bristol people on the show, and hopefully if [we get] a series two, we'll be able to really bring in Bristol even more.

Jayde Adams, actor and producer, Ruby Speaking
Ruby Speaking is produced by Yellow Door Productions and created by Abigail Wilson, Jayde Adams and Lucy Lumsden. It is written by Abigail Wilson and directed by Rosie Gaunt-Mathieson.
All episodes or Ruby Speaking are available now on ITVX.