The highly anticipated second series of Sky Original sci-fi thriller The Lazarus Project starring Paapa Essiedu, arrives on Sky Max and streaming service NOW today (15th November), after filming in Bristol with support from our Film Office team.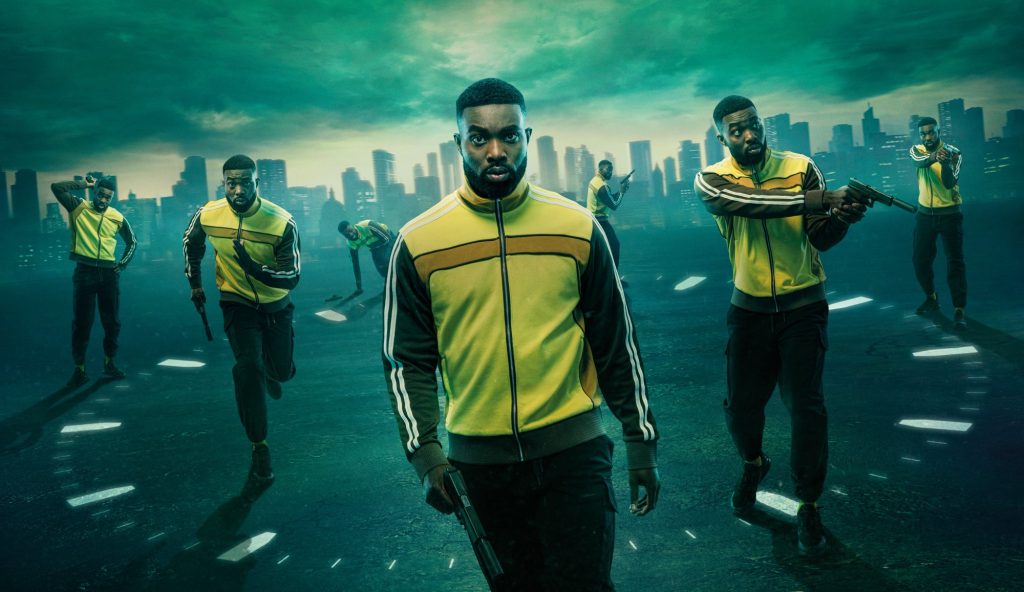 Having utilised a host of Bristol locations for series one, Newport-based production company Urban Myth Films returned to film the eight-part second series in Bristol between October 2022 and February 2023.
Bristol Film Office assisted filming at a diverse range of locations across the city, which double for London and Eastern Europe in the drama. Locations were sourced in Easton, the Old City, Central Bristol, Fishponds, St Paul's, Bedminster and Clifton.
Blaise Castle Estate and the Former Bank of England building were also used, and roads were closed for nighttime driving scenes filmed along Temple Way. A London bus featured in scenes filmed around the city and at the production's unit base at Gardiner Haskins car park in Old Market.
Spicer+Cole on Queen Square Avenue, The Hungry Bite café on Ashton Road and Vx Café on East Street were just some of the local business premises that were also hired for filming.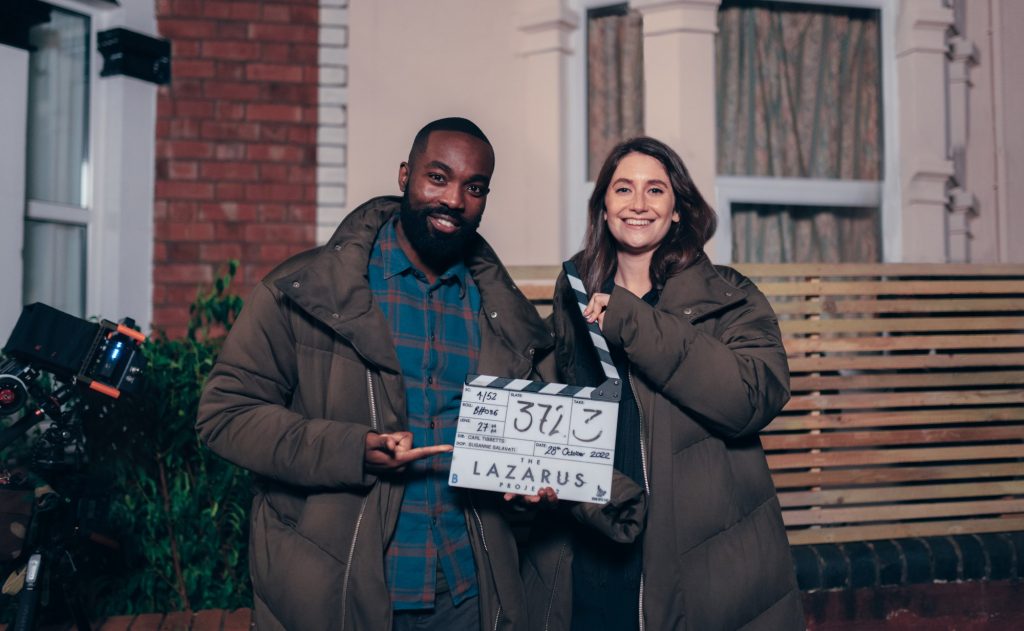 Bristol always has incredible visual production value. The Lazarus Project is primarily set in London but Bristol has the scale and variation to be the most likely place to find suitable options. The Crescent on Canon's Way, a prominent building near the docks, also doubled for Eastern Europe. The ease with which the Film Office and Highways Dept dealt with our request to close a major road for a stunt-laden car chase helped turn what could have been an utter headache into a highly effective and excellent-looking night of filming.

Benjamin Greenacre, Series Two Producer
Temple Way Underpass was closed last night to film multi-vehicle pursuit in Sky drama The Lazarus Project pic.twitter.com/rm3rQnx5vS

— Anthony Ward (@Anth0ny_Ward) February 15, 2023
Where did The Lazarus Project series two film in Bristol?
Easton: Greenbank pub, Istanbul Supermarket, Mivart Street
The Old City: Leonards Lane, Small Street, Former Bank of England building on Wine Street
Central Bristol: Frog Lane, Frogmore Street, Canon's Way
Fishponds: Maywood Crescent
St Paul's: St Matthias House
Bedminster: East Street
Old Market: Temple Way underpass
Clifton: The Washington Hotel
Henbury: Blaise Castle Estate
The majority of our filming was shot in and around Bristol, which provided the majority of our London location requirements. We actually only went to London once to shoot very obvious London scenes. We also filmed in France and Morocco for a short stint. Having worked on six shows for Urban Myth Films, I find that a lot of the areas around Bristol give us the large scale buildings London has, without having to shoot in London. Unless an iconic London building is required in shot, it is good to use Bristol for filming our exteriors.

Darren Green, Head of Production, Urban Myth Films
Urban Myth Films also ran a training scheme on the production which provided placements for 12 emerging creatives from under-represented backgrounds in Wales and the South West. Trainees gained practical experience and a professional credit on drama, with placements across the art department, props, camera, script supervision, grips and lighting.
"The training scheme was very successful," continues Green. "I'd say 50% of the trainees were from Bristol. Along with this we also had three shadowing directors and a shadowing producer. Three of the trainees from the programme are now working with us on our current show in production.
The Lazarus Project is a timely and affecting exploration of the desire to take charge of your own fate. When the world locks into a never-ending time loop that will ultimately end with the planet's complete extinction, the Lazarus team must race against time to find a solution before humanity is wiped out forever. Among their number is resolute Lazarus agent, George (Paapa Essiedu), who's been left in disgrace after betraying the organisation in the name of love.
George is determined to redeem himself and win back the trust of his friends, colleagues, and the love of his life. But when he discovers that the cause he's fighting is more sinister than it appears, George begins to suspect that the only person he can really trust is himself.
Welcoming a successful high end TV show like this back for a second season gives the clearest signal of how well Bristol caters for this type of shoot. Urban Myth never fail to get the best out of our locations. With support from the Film Office – who are this year marking 20 years of assisting shoots like this – Bristol is the ideal setting for international, action-packed productions needing visually versatile locations that can double for London and other European cities. We were also delighted to see Urban Myth providing placements for emerging and underrepresented talent behind the camera. This type of access must be a priority if we are to grow the crew base in the region and we applaud any production that takes this type of proactive approach.

Laura Aviles, Head of Film, Bristol City Council
The Lazarus Project is produced by the award-winning team at Urban Myth Films, in association with Sky Studios, and has been created and written by BAFTA nominated Joe Barton (Giri / Haji). Series one launched to critical acclaim in June 2022 going on to be Sky Max's second biggest new scripted launch of the last two years, with a 28-day audience of 1.70m.
The epic, action packed second series is led by Emmy and BAFTA-nominated Pappa Essiedu (I May Destroy You) with Anjli Mohindra (Bodyguard), Charly Clive (Pure), Vinette Robinson (Boiling Point), Rudi Dharmalingam (Wakefield), Caroline Quentin and Tom Burke (Strike) all reprising their roles.
Also joining the cast are Royce Pierreson (The Irregulars, The Witcher), Colin Salmon (Resident Evil, Limitless), Safia Oakley-Green (Sherwood), Lorne MacFayden (Vigil), Zoe Telford (Genius), Sam Troughton and James Atherton (Hollyoaks)
The Lazarus Project season two is available on Sky Max and streaming service NOW from 15th November.