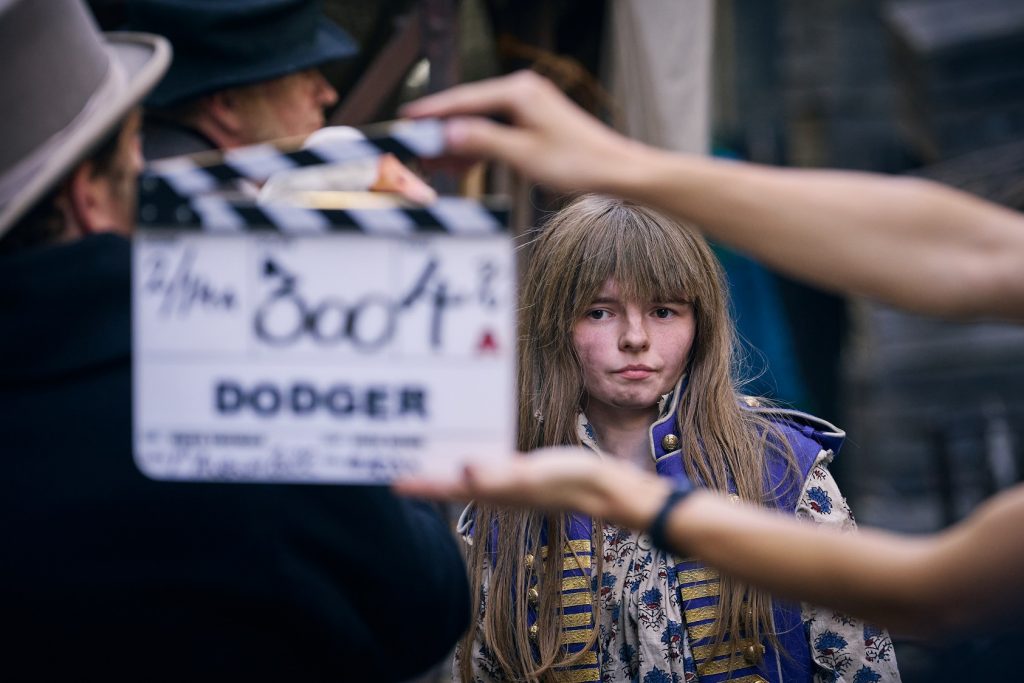 BAFTA and RTS NW award-winning children's series Dodger has returned to CBBC and BBC iPlayer with two of three new 45-minute episodes filmed in Bristol earlier this year.
Filming for the three special episodes took place between July to September. Sets built at Bristol's Bottle Yard Studios included Fagin's lair, Bill Sykes's hovel, the notorious 'Fiddlers Arms' pub, a toymaker's shop, street exteriors, police cells and even a Victorian No 10 Downing Street banqueting hall. For the first special, 'Train', filming took place on location at Parkend railway station on the Dean Forest Railway line in Gloucestershire, whilst interiors for a train tunnel and carriage were also created in the Studios' vast Tank Houses 1 and 4.
Bristol Film Office supported the production team to make use of Bristol's beautifully preserved period buildings for other scenes. Locations included Bristol Museum & Art Gallery, Blaise Museum and The Georgian House Museum, whilst street filming also took place at Queens Square, All Saints Lane and Corn Street in Bristol's Old City. The 150-year old Clifton College was also used as a location.
Not only was an entire Victorian world built at The Bottle Yard Studios, Dodger's production team also made the most of the beautifully preserved period buildings Bristol has to offer, particularly the Museums, whose teams were so accommodating. The crew, and cast in full Victorian costume, were working in the sweltering 38-degree heat of the Summer heatwave, which gives you some idea of the dedication of everyone behind the scenes. The television industry is so important to Bristol; it generated nearly £21 million towards the city's economy last year, supporting local crew and companies and bringing knock on benefits to a wider range of other businesses too.

Senior Film Manager Laura Aviles, Bristol City Council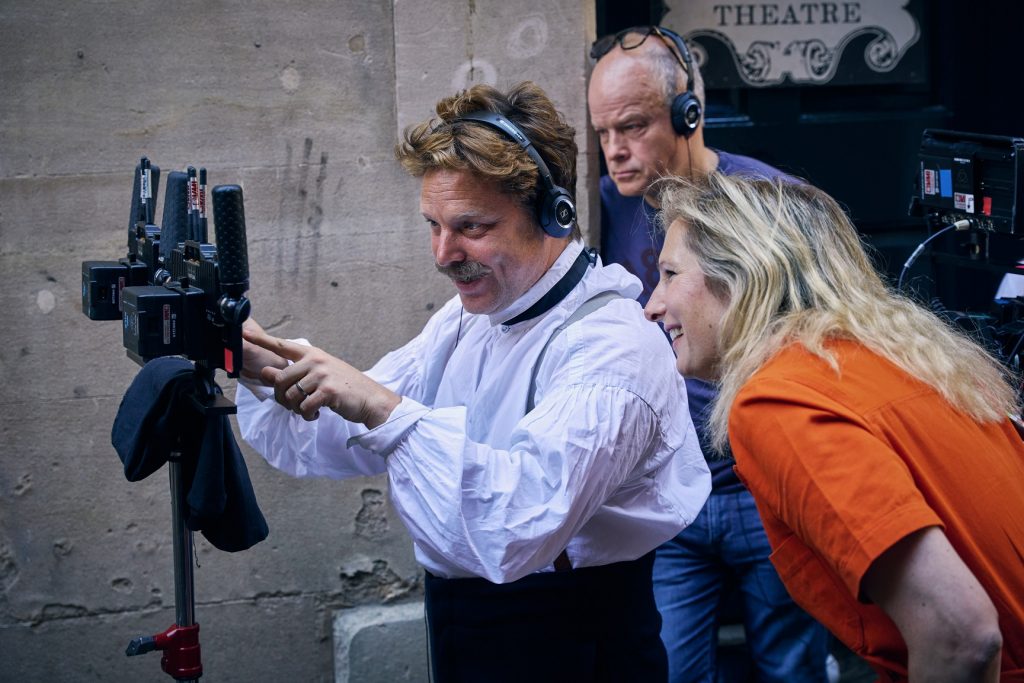 Produced by Universal International Studios, a division of Universal Studio Group, for CBBC and BBC iPlayer, Dodger is a hilarious, optimistic and fast-paced show which follows the exploits of the infamous pickpocket Dodger.
After its successful first series, Billy Jenkins (Peaky Blinders, The Crown) returns as Dodger, alongside Fagin played by Christopher Eccleston (The A Word, The Leftovers). Ellie-May Sheridan (Call The Midwife), Aabay Ali, Connor Curren and Mila Lieu also reprise their roles in the gang. Leading actors David Threlfall (Shameless, Housewife), Alex Kingston (Doctor Who), Rhys Thomas (The Fast Show, Brian Pern), Javone Prince (No Time To Die, Horrible Histories), Lucy Montgomery (Disenchantment), Saira Choudhry (Life, No Offence), James Fleet (Vicar of Dibley), Lenny Rush (Am I Being Unreasonable, Christmas Carol) and Sam C Wilson (Hanna) also join the specials.
New exciting guest stars include Anita Dobson (EastEnders, Casualty), Robert Lindsay (My Family), Mark Benton (Waterloo Road), Rufus Jones (Home), Matthew Holness (Garth Marenghi's Darkplace) and Jane Horrocks (Absolutely Fabulous) to name a few.
Each 45-minute episode focuses on a self-contained plot, picking up from series one which ended with Dodger being deported to Australia in a ship filled with convicts. The specials are written by Rhys Thomas and Lucy Montgomery, with Thomas also directing all three.
The first special, 'Train', shows Dodger's ingenious escape back to London to reunite with Fagin and the gang and pull off their very own great train robbery!
In the second special, 'Christmas', it's Christmas Eve and the gang return under the watchful eye of Fagin (Christopher Eccleston). Dodger (Billy Jenkins) attempts his most daring mission ever – he's going to break into Number 10 Downing Street, home of the Prime Minister William Lamb (Robert Lindsay) and Countess Cowper (Jane Horrocks).
With police stationed at every turn and a very special Christmas party going on inside, it's not going to be easy. But the ever-intrepid Dodger has given his word to the kind toymaker (Anita Dobson) that he'll retrieve her precious doll, which is nestled under the Prime Minister's Christmas tree! Meanwhile, Polly (Ellie-May Sheridan) has a plan to put a goose on the gang's Christmas table. It's all going well until Bullseye shows up. A goose herder he ain't…
The third and final special, 'Egg', will see some of the gang being rehabilitated through the power of education, after they're caught red handed and sent to a very smart British public school. Filled with even more fun-filled antics, who will race to save the day and rescue the gang?
Dodger won in the Scripted category of this year's BAFTA Children and Young People Awards which took place on Sunday 27th November in London.
The first episode (Train) aired on Sunday 27th November and the second episode (Christmas) aired on Sunday 4th December. Both are available now on BBC iPlayer.
The third and final special (Egg) is expected to air next year on CBBC and iPlayer.