On 31st October 2017 Bristol was designated UNESCO City of Film, a permanent status that celebrates Bristol's achievements as a leading city in the field of film and moving image. Bristol is a member of the UNESCO Creative Cities Network and has been deemed worthy of the accolade because of the city's lasting contribution to film culture, production, heritage, education, research and technology.
Building on the city's well-established moving image industry, Bristol City of Film aims to further embed the ethos of UNESCO into Bristol's film culture. The project focuses on three main aims that partners across the city will work to achieve through targeted activities:
Increase diversity of local access and engagement with film culture
Improve access to employment within the film and TV industry and maintain a notably skilled and diverse workforce
Support cross-cultural initiatives locally and via the UNESCO network
Partners
Bristol UNESCO City of Film is delivered in partnership with the following organisations:
The Bristol City of Film Stakeholder Group supports the delivery of the City of Film work programme and is made up of many Bristol organisations and individuals that contribute to Bristol's film education, culture and industry.
Supporters Stamp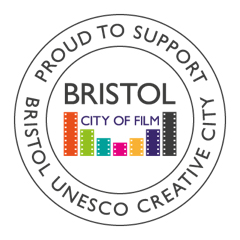 The Bristol City of Film Supporters Stamp is available to any Bristol organisations, companies or freelancers that contribute to the profile of Bristol's moving image culture and industry. The stamp shows your support for Bristol as a world-renowned City of Film and enables Bristol's broad and diverse moving image creators to be more visible across the UNESCO Creative Cities Network. Please request to use a stamp using the form below.
Further Information