The use of drones for filming is becoming more widespread as technology develops and improves. If you want to take off and land a drone on Bristol City Council land you will now need to give us at least seven days' notice and apply for filming permission.
The process for applying for permission to take off/land a drone of council land is as follows:
1. Read and share the following documents with all crew members
2. Submit a filming permit application to Bristol Film Office including,
A full risk assessment
A copy of your company's public liability insurance certificate (minimum £5million)
A copy of the drone pilot's CAA license
A map/site plan pinpointing take-off and landing points, cordoned areas and proposed flight path
A method statement advising how you plan to manage the areas over which the drone will fly
(In line with the CAA guidelines, we will insist on a 30m2 clear radius for this area)
3. Bristol Film Office will review the application and documents supplied and make the necessary arrangements with Bristol City Council land managers. We aim to confirm permission to film within 5 working days of receipt of the permit application.
Please note:
We can only consider applications from professional drone companies.
We require your CAA licence, risk assessment and public liability insurance at the point of application to process your request.
Without a permit from Bristol Film Office the only spaces a drone can take off and land are on designed areas of parkland – Designated Flying Areas
When considering drone footage, remember that the pilot has to keep visual contact on the drone during flight, not using the on-board camera.
Possible Launch Areas: View our map of possible launch areas.
Restricted Areas: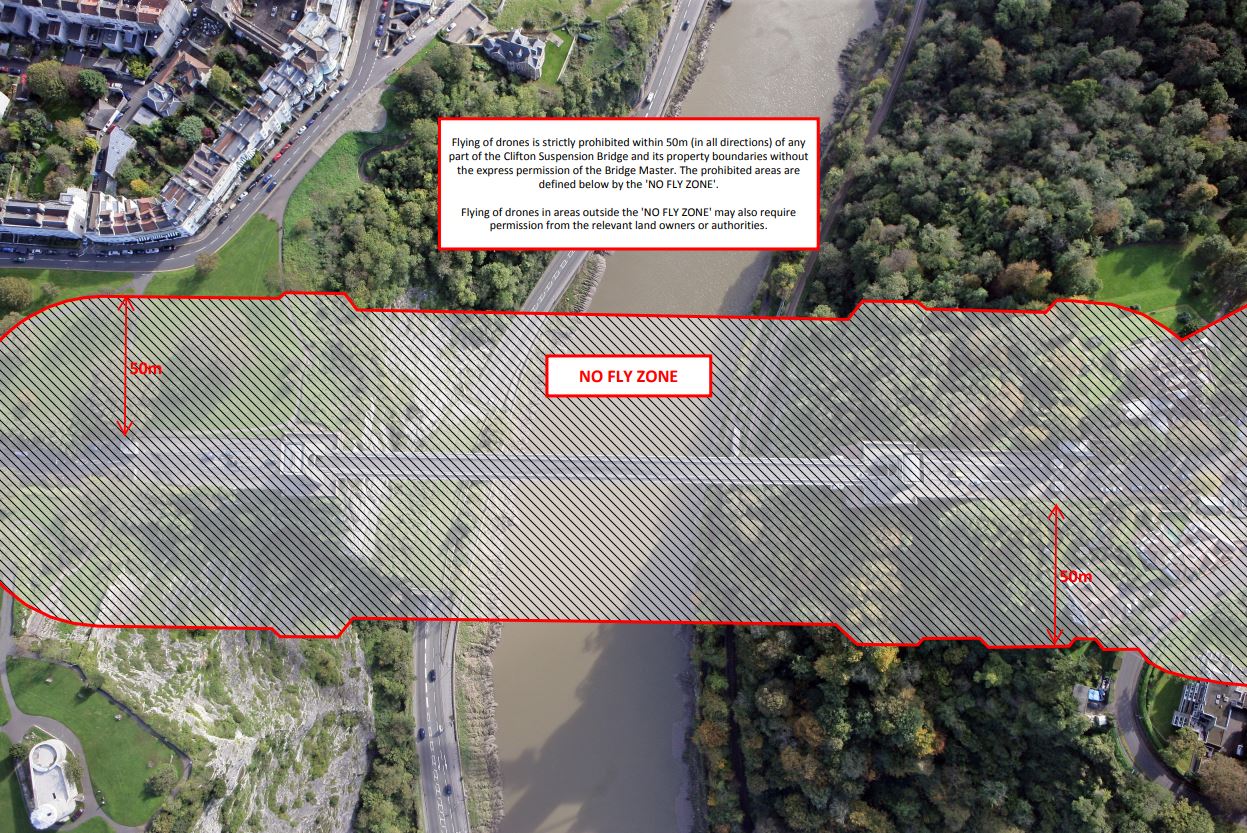 If there is a particular area you want to capture, please contact us and we can recommend a take off area.
City Centre Drone Filming
Please take advice from your drone operator before requesting drone filming over the centre. CAA guidelines state that drones must not be flown over congested areas, therefore, we will only consider requests early on Sunday mornings subject to planned activity in the centre.
Fees
Drone permits cost £150 per flight/take off
For multiple take off points and prolonged usage (e.g. half a day's filming), fees will be subject to negotiation.
Drone Operators
View a list of professional Drone CAA operators